Suitable Campaign Age: Any, adjust for tone
Adventure Tone: Action-Adventure
Recommended Power Level: Classic
Content Warning: Depending on how this adventure is played it can be seen as cynical, or anti-Christmas. The adventure is intended to be a fun romp, and maybe a reminder that cultures can, and do, celebrate the same holiday in very different ways.
Overview
For years the power of the Krampus has been contained, but thanks to recent events in the North Pole, he has stolen brother's sleigh and will soon bring justice to the world. In the mind of the Krampus, there are no good children left! If the heroes cannot stop Krampus, every living being will be caged, thrashed, and cooked down into coal.
Patreon Bonus Content: Become a Patron and help support indie creators. Becoming a Patron unlocks a ton of bonus content, including a bonus scene for anyone who wants to rescue Santa. 
Who is the Krampus
While the legend of Santa is spread far and wide, not everyone has heard of his brother. As Santa takes care of the good children, Krampus is there for the worst. Taking the form of a goat like demon, Krampus seeks out the worst children placing them into a basket to be beaten with reeds. After their beatings the children are cooked and turned into the coal that his brother gives to those kids who are merely naughty.
Ask yourself though, when's the last time you heard about a kid getting a lump of coal? Some time around 1916 Santa decided that there was too much suffering in the world. Striking a deal with Ded Moroz and the Snow Maiden Nastenka to trap and watch over Krampus, at least until hope was restored. Yet, as the years rolled on, the Krampus, locked in an icy prison was forgotten, and even the naughty children began receiving presents.
This year, that injustice comes to an end.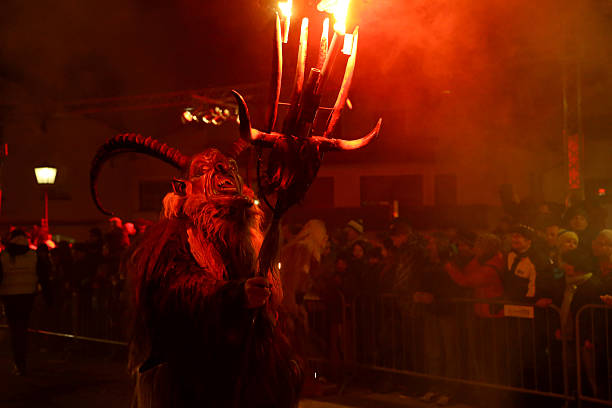 Foreshadowing
Go around the table, ask each player, what is the worst thing their hero has done over the past year. This can be anything, but some examples might have been where the hero was unnecessarily cruel in a fight, or said something they immediately regretted.
After each hero has shared this moment from their past they wake up, the morning of December 5th. Whatever dream they may have had already fading away. Offer each of the players a temporary Drive based on their worst action over the last year.
Survivors of Stille Nacht
Heroes who helped defeat the Eisenreich last year (see: Stille Nacht – The Iron Santa Initiative) will also have a sensation like they cannot get warm the entire day, as if a warmth they have known was snuffed out. 
Missing People
Throughout the day reports will begin coming in that people all over the world have gone missing. These reports should include name drops of the worst villains and other figures the heroes have encountered.
Investigating The Abductions
Heroes who go to the homes of people who are missing will find signs of struggle. Deep gashes along the walls and floor. Somewhere in the home, or area, there is a square shape burned into the ground.
A Deeper Look
Heroes can make a Sense + Forensics roll versus an Average (15) Target to uncover additional information.
Partial: Despite the damage done of the home, there are no signs of bodily harm such as blood or hair.
Success: In the gashes are wood fibers.
1 Degree: Around the burn area there are iron filings.
The Scientific Approach
Any research into the wood fibers or iron filings will show them to be completely normal. If the heroes have a Science Talent, they will be able to identify the wood as being from a reed.
A Touch of the Arcane
Heroes can also look for more magical properties. Making a Sense + Occult roll versus an Expert (20) Target will reveal the following.
Partial: There is something magical about both the wood and iron found.
Success: Both share similar magical properties.
1 Degree: The magic is an ancient form of transmutation.
2 Degrees: The wood fibers can be used to make a magical compass that tracks the source.

This requires a Wisdom + Occult roll with a Challenging (45) Difficulty and will take about a day. Once completed, it will only point North, except on the 12th, 19th, and the 24th. (See below)
More Abductions
In the days that follow there are no demands made, or any signs of the missing people. One week later though, on December 12th, more people go missing. Everything seems to happen in the same way. However, the people that go missing aren't necessarily evil, but they are not good people by any stretch of the imagination.
Heroes investigating these abductions will find the same results as above.
On the 19th this will happen again. If the heroes have not yet been able to track and identify the Krampus when people begin waking up on the 19th they will realize over half the world's population is missing.
Compass of Reeds
At the stroke of midnight as the 12th and 19th of December as the day starts, the compass will begin rapid cycling in a direction. It will point in a general direction, but will move between tiny variations with supernatural speed.
Heroes can use this to try and find the source, go to Krampus Tracker.
Naughty or Nice?
The following are two possible ways to set up the confrontation with Krampus.
Krampus Tracker
If the heroes have crafted the magic compass they can attempt to race Krampus and locate him, before the other spirit of Christmas comes for them. He has Santa's sleigh, which creates a temporal bubble, so the heroes will have to be quick. The following uses a Competitive Roll with Krampus as the Defender.
Victory Conditions: Escape Back To The Lair
Success Threshold: 3 (Increase this by 1 if the heroes have some means of freezing time, or can teleport collectively.
Krampus Movement Roll:
Notes: If the heroes are unable to beat Krampus they can still locate him, at the North Pole. Here they will face Krampus in the ruins of Santa's Workshop. (See description from Stille Nacht.) Except, increase his Imps from a Typical Mob to 2 Major Mobs.
A Call To Be Brave
If on December 24th the heroes have not been able to track Krampus they will receive the following radio transmission:
"To anyone who can hear me, let me be the one to tell you, Krampus is real, and he needs to be stopped. He has broken free of his ice cave and imprisoned Santa's workshop. I don't have much time, Krampus has gone mad after his time imprisoned and if he is not stopped will turn all the world's population into coal. Be prepared, Krampus is coming to town."
Facing the Krampus
If confronted while on his journey, Krampus is accompanied by twelve Imps who stand in for Santa's deer. If the heroes are able to track the Krampus, allow them a collective Stealth roll requiring a minimum of 1 Success for each hero present. The Difficulty is 29.
The Krampus stands at nearly twelve feet tall, on his back is a sack filled with reeds, and he carries a cage of red hot iron. Inside are the shrunken and dehydrating bodies of his victims, their forms diminished as they slowly became lumps of coal. Once he is able to speak he will call the heroes by name, telling them the following:
"Each of you have crimes to be adjudicated, but I had reserved judgement as you work to protect others, and this I can respect. The last time I was allowed to walk this earth, I was the bringer of justice. However, my brother imprisoned me because he felt there was too much suffering in the world. I have been imprisoned for a century and let me tell you what I have learned, so long as humans walk the earth, there will be suffering, and for this, there must be punishment."
Taking any aggressive actions towards Krampus he will not hesitate to attack them. However, he will express disappointment. Even if a fight breaks out, the heroes can talk down the Krampus by admitting their darkest acts and how they have worked towards correcting the behavior. The heroes will need to make an Expression roll, adding in temporary Drive. The Difficulty is 37 and there must be at least 1 Success for each Hero.
If the heroes are able to talk down Krampus he will say the following:
"Perhaps my years of imprisonment have blinded me to my purpose, to remind people that they must be better. I shall restore humanity, perhaps I shall even allow my brother another chance."
If the heroes are able to bring Krampus to -Stamina he will use his Escape Clause, taking the sleigh and imps with him, making the following statement:
"This year may be yours, but know that you are forever on my naughty list."
In either case those trapped in Krampus's cage will be released, their bodies ejected back to wherever they were taken. The victims will have no memory of what happened, only a strange boding feeling that someone is watching them.
Krampus Imps Classic Nightmare Fodder + Devistattor + Striker + Shooter + Immune)
Basic Rolls 9 + 2d6
Stamina 9
Defense 9 Dice 2 Armor 3 Notes: Immune to Fire Damage
Offense Fire, fire Everywhere 15 Dice 3 Range Long Damage 12
Offense White Hot Iron Rods 15 Dice 3 Range Close Damage 15 
Krampus
Campaign: Naughty!
Power Level: High
Background
Like his brother, Krampus is a tulpa, created by a common belief. Krampus is an embodiment of justice. Before his imprisonment, the Krampus would take only the worst of souls, cooking them down into lumps of coal to warn naughty children of the fate that may await them. He takes no pleasure from capturing and torturing children, but sees it as a duty to prevent others from falling to a path of evil.
Attributes
History 12 Strength 8 Dexterity 8 Constitution 10 Sense 8
Fortune 8 Wisdom 8 Intelligence 8 Mental 15 Expression 14
Backgrounds
Spirit of Punishment (Dedication) 12
Without Punishment, What Are Crimes? 10
There Must Be Balance 8
Background: Spirit of Punishment 5
Talents
Brawn 11 Climbing 11 Escape Artist 11 Etiquette 11 Intuition 11 (Specialty) Other People's Hopes 4 Perception 11 Outlast 11 (Specialty) Facing Naughtiness 8 Repair 11 Riding 11 Stealth 5 Subterfuge 11 (Specialty) Detecting Naughtiness 11
Boons
All Terrestrial Languages MA3
Extra Stamina TY
Surprising MA
Tools: Escape Clause, Vehicle MA
Tricky TY
Powers
Ephemeral Constant of Justice  15
Parent Attribute: Mental, Primary Role:
Alternate Source: Reeds or Fire MA
Lingering MA
Support: Detecting Naughtiness
New Senses: Sees You When You're Sleeping, Knows When You're Awake TY
New Senses: Know Your Presents TY
Secondary Role: Defense (Full Role) MA2
Armor (Boost Armor, Impervious) MA3
Passive Defense MA
Secondary Role: Offense (Full Role) MA2
Devastating MA
Trapping (Tougher Traps 2, Variable Trap) MA 4
Limited: Lingering Fire Damage Only Applies to those Trapped.
Limited: Must Successfully Lash a Target with reeds before trapping them.
Cost: 1 Power + 20 Selections + 10 AP
Starting AP 40
Attributes 2 + Talents 6 + Boons 12 + Powers 10 – Drawbacks